My love for frozen sweets knows no end. Anyone who knows me will tell you Im fanatical about frozen sweets, most particular Sorbets.
Only fueling this lust for iced goodies my roommate just
HAD
to go and purchase and Ice Cream machine.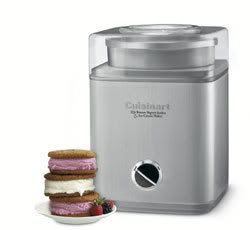 Its a Cuisinart ICE-30BC (Before Cream?). We broke it out of the box to ooh and ahh at it upon its arrival yesterday but havent used it yet. I plan on breaking this baby in tomorrow.
I had to write a menu a few weeks ago for a class and in the desert section I put a few sorbets that I want to try out.
Strawberry Shortcake
Strawberry and Shortcake-Infused Sorbets
Vanilla-Champagne Sauce
Sprinkled Lightly with Toasted Almonds
Tiramisù
Coffee and Mascarpone Sorbet
Served with Lady Fingers
Dusted with Cocoa
I know how Ill tackle the shortcake and the mascarpone sorbet, but what illudes me is the coffee sorbet.
Ive been racking my brain on how to do this for the last couple days. Best I can come up with is do a basic sorbet and add ground coffee or Steep some coffee grounds in the simple sugar solution and strain.
Im still working out the details but man oh man I want to go all Dr. Frankenstein with this Ice Cream Machine.