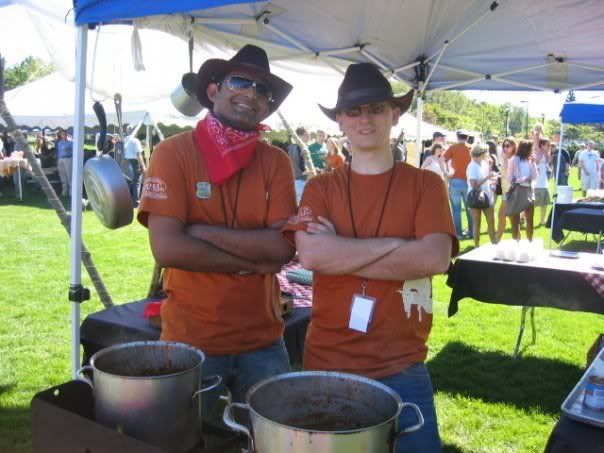 Well you can't avoid bad news forever.
The top three winners were announced at the end of the Cook-off and we did not place then. We waited patiently for the results to the cook-off to come in and they did at the end of last week.
The results are as follows:
Jury Selection
1 :: Team Ace (No. 8) * Avg. 82.8
2 :: Hot Thang (No. 10) * Avg. 82.4
3 :: The Pair of Aces (No. 1) * Avg. 75.6
4 :: Hokey, Dokey and Smokey (No 12) * Avg. 75.2
5 :: Smoke 'n' Hot (No. 2) * Avg. 75
6 :: Hurricanes (No. 6) * Avg. 70.9
7 :: Red Hot Chili Chicks (No. 7) * Avg. 69.3
8 :: Team Chupacabra (No. 3) * Avg. 68.4
9 :: Team Culinary Lovin' (No. 11) * Avg. 67.2
10 :: The Three Amigos (No. 9) * Avg. 66.3
11 :: Red Hot Chili People (No. 4) * Avg. 64.5
12 :: Off the Wagon (No. 5) * Avg. 63.8
So what went wrong? How could this be?!
Well looking back there are a few things we could have done differently.
I honestly believe the recipe is solid in its base. The problem came with the act of cooking.
The judges feedback was as follows:
Too Thin and Oily
Uneven Braise, Some Off Taste Like Olives, Way too Salty, Too Big and Random Pieces
Good Heat Balance, Deep Color, A Bit Thin
Meat is Starting to Shred, Bit Salty, Somewhat Watery
Separated Grease, A little Salty, Cumin Overdone
Needs Cumin, Needs Salt, Loose Sauce, Oily
Greasy, Mild Flavor, No Cumin
Excellent
Way Greasy, Pre Chewed, Funny Flavors
Too Salty, Meat Tough, Way Greasy, Not Hot Enough
A Little Oily, Too Much Cumin
Some of this makes sense. Our stock was not de-greased well enough (Totally my mistake), and the cuts were far too large (also my error in judgement). The biggest flaw that killed us was that the meat began to shred close to presentation time. Even as large as our cuts were they ended up looking like a pulled BBQ then a chili.
We should have held the meat to the side longer and reduced the base a little before adding the meat in, or cooked it on a lower temperature. That in itself was a problem due to the stoves we were using, one side put out a much higher BTU then the other which was unexpected. We adapted to the issue and did the best we could given the time allowed.
Our test batch came out far better then the batch at the cook-off, but I honestly believe with some slight adjustments and some practice the recipe could carry on strong.
All in all we came, we cooked, we had fun and that's what really matters. For my first actual cooking competition I have to say I'm mildly pleased, but knowing me Ill obsess over the recipe given the free time till I cook it right every time.
A very special thanks to Gary Allen and his wife for showing up and showing their support.