Still have some work ahead of me here, but I spent some time today catching up on some of my favorite blogs.
One group of posts by
Bob Del Grosso
in particular really caught my attention and got me thinking. Basicly to sum it up the repeated theme was "Art/Food Art" and discussions arose at to what one would consider art in relation to food.
Ive always had a strong stance that Food in general, when cooked well and prepared neatly and beautifuly can be "Art", while macaroni pictures and artists who use peanut butter and jelly on a canvas are not in any way "Art".
After a short discussion with my roommate I came to realize that in some ways Im a hypocrite when it comes to what I percieve as food art and what I percieve as "art".
So, lets clarify.
Art is defined as (in part):
1. the quality, production, expression, or realm, according to aesthetic principles, of what is beautiful, appealing, or of more than ordinary significance.
With that in mind any number of things, even *cringe* PBJ canvas painting, can be considered "Art". Now remove the uppidy societicrites(I totaly just made that word up) who will tell you that art must "not be afraid to scare or upset its viewer" or tell in general what "makes" art and what doesnt and lets look at the general picture of Food in relation to Art.
I have a poll placed on the right hand of this blog. Please take a look at the following 4 pictures and you tell me which you would consider to be "Food Art" if we define food art as followed:
Food Art- the creation of a piece to be considred which base medium is food in which adhears to the (above) definition of "Art".
So here are your choices:
Example A: Croquette Potato as served at Alinea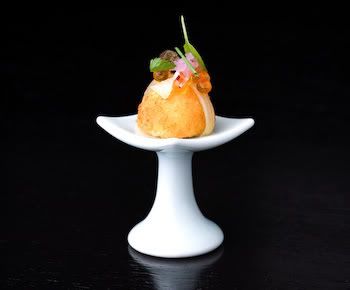 Example B: Pomegranite photo (Example of Food Photography)
Example C: I Cake
Marti Guixe
design artist. Cake is made as a pie chart to show the amount of cake ingredients.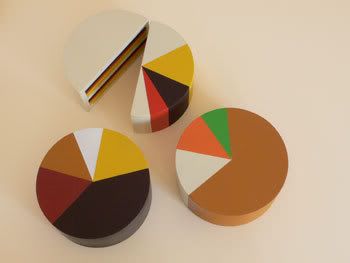 Example D: Random Google Photo.. dont ask me what the heck it is!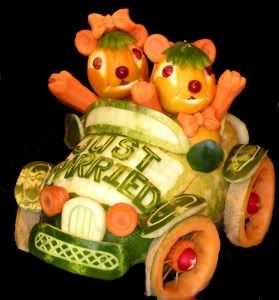 So take a minute, Vote and Ill post the results in a few days to see what we all think makes up "Food Art."
Good Eating!